Dagens lak er en lækker lilla glitterbombe, som Neglelak.com har sendt til mig. Den er fra Ciaté og navnet er Helter-skelter. Den er ligesom Hoopla også en del af deres Fairground kollektion.
Lakken er fyld med lilla glitter, både micro og lidt større glitter. Basen af lakken er klar, så derfor skal der 3-4 lag til før den dækker helt selv. Jeg har derfor brugt to lag over Gosh Wild lilac, så bliver det også nemmere at få pænt ved neglebåndene. Man kan jo også ændre hele look'et ved at lægge sort, blå, pink eller noget helt andet under :D Selvom det er masser af glitter i, var den meget nem at lægge. Udover det tørrede den også overraskende hurtigt - det er jo altid et plus! Jeg har lagt et lag top coat over.
Hvis i har læst bloggen i noget tid, ved i at jeg er glad for lilla, så den her er en ren winner hos mig :D Den passer jo også godt til den kommende tid med julefrokoster og nytårsaften, hvis altså man kan lide lilla ;)
Prisen er 95 kr. og den kan købes lige *her*. Husk også at like Neglelak.com på Facebook,

for at høre om tilbud m.m.
Som sagt er neglelakken i dette indlæg er sponsoreret af Neglelak.com - min mening om er dog stadig min egen.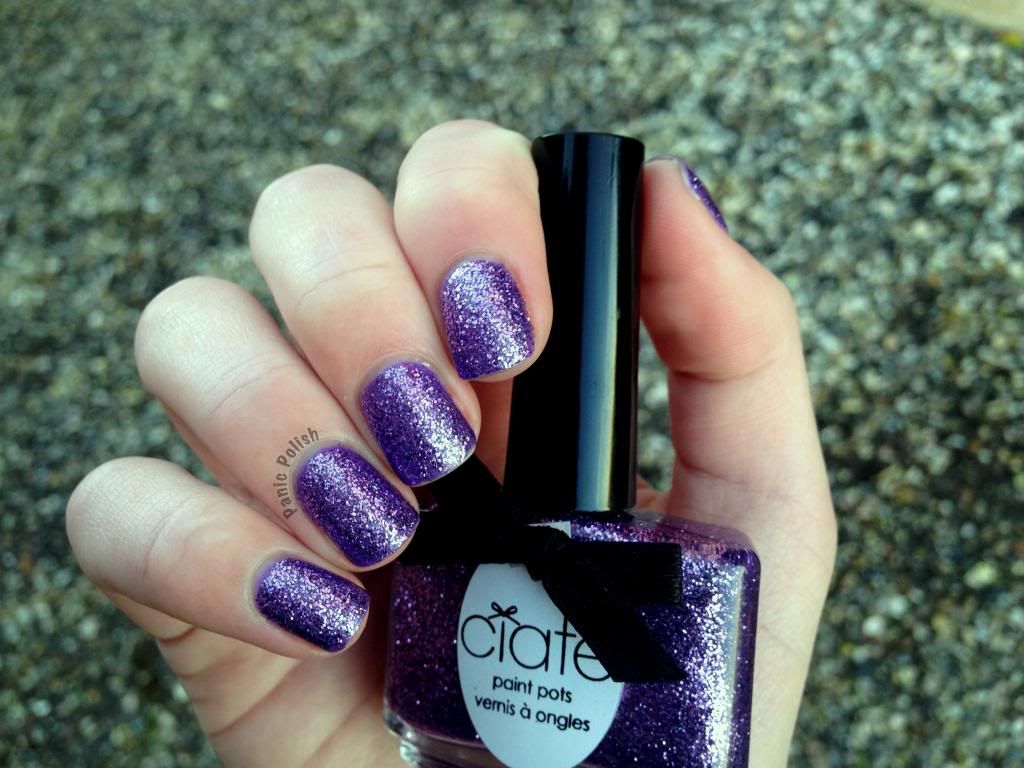 The polish of the day is a hot purple glitter bomb, that Neglelak.com has send to me. It's from Ciaté and the name is Helter-skelter. It's also a part of their fairground collection, like Hoopla is.
The polish is filled with purple glitter, both micro and a bit bigger glitter. The base is clear, so it'll take 3-4 layers before it covers 100% on it's own. That's why i've used two coats over Gosh Wild lilac, then it also gets easier to get nice at the cuticles. You can also change the whole look by layering it over a black, blue, pink or something else :D Although there's a lot of glitter in, it was really easy to put on. Besides that it dried surprisingly fast - that's always a plus! I have used one layer of top coat.
If you have read the blog for some time, you know that i like purple, so this is a clear winner for me :D It's also great for the upcoming holiday parties and new years eve, if you like purple ;)
The price is 95 DKK, and it can be bought right *here*. Also remember to like Neglelak.com on Facebook, to hear about deals and more.
As said, the nail polish in this post was sponsored by Neglelak.com - my opinion however is still my own.