Så er det fredag, og det betyder som altid Fælles Fredag! :D Denne uges tema er 3D helly sandwich, og det er nok noget som de flest ikke helt ved hvad er (bortset fra dem der er med til fælles fredag), så jeg vil lige skrive hvad vi valgte af 'krav' til temaet. Ideen er et man lægger en lak som bund, det kan både være en jelly (altså en lak som ikke dækker helt
og som ligner lidt om jell-o, haha jeg sammenligner lige neglelak med mad :b)
eller en alm. creme, efterflugt af en form for nail art, som blomster, prikker, stjerner, egern eller hvad man nu lige har lyst til, og så et lag jelly lak. Og det gentager man så indtil man er tilfreds, jeg gjorde det tre gange. Så altså lak (jelly eller creme), prikker, jelly, prikker, jelly, prikker, jelly, done!
Jeg har ingen rigtige jelly lakker, kun crelly, som vil sige halvt creme halv jelly, så jeg har blandet en almindelig creme lak med top coat, og det fungerede faktisk helt fint! For at vise hvordan man kan lave det her, og for at det giver lidt mere mening, det jeg har prøvet at forklare, har jeg lavet en lille step for step tutorial, som er det sidste billede. Billederne er ikke så skarpe, og min finger ser helt rød ud, men det er på grund af lyset.
Nu skal det ikke være nogen hemmelig hed at jeg slet ikke har set frem til denne udfordring, faktisk har jeg bare gerne ville have det overstået, så jeg har valgt kun at lave det på en negl for at gøre det lidt nemmere for mig selv. Hehe, man snyder jo lidt der hvor man kan c:
Jeg har brugt to lakker fra Essence: The boy next door og Stamp me! White (til prikkerne). Top coaten jeg brugt var Poshe, men det har nu ikke så stor betydning.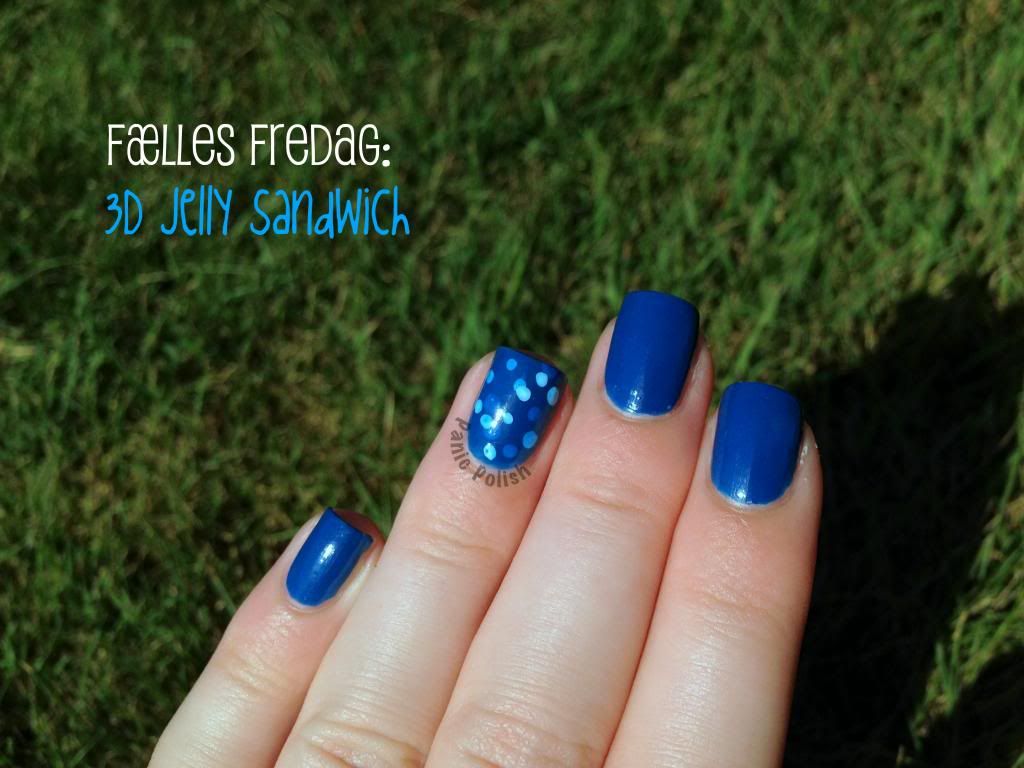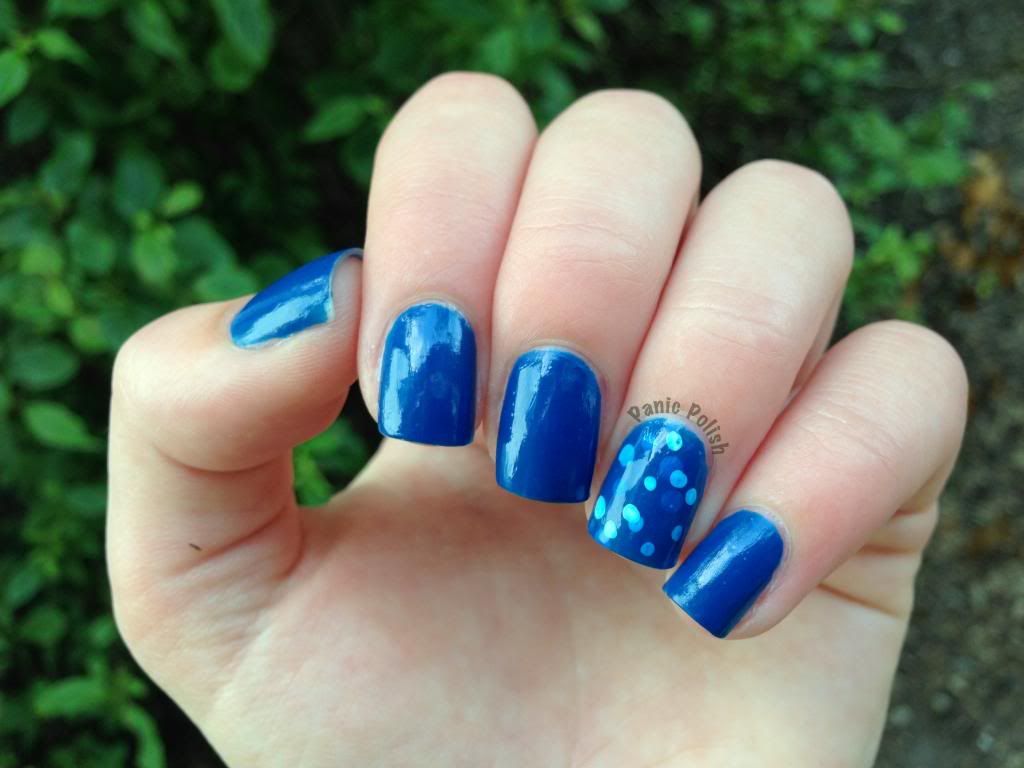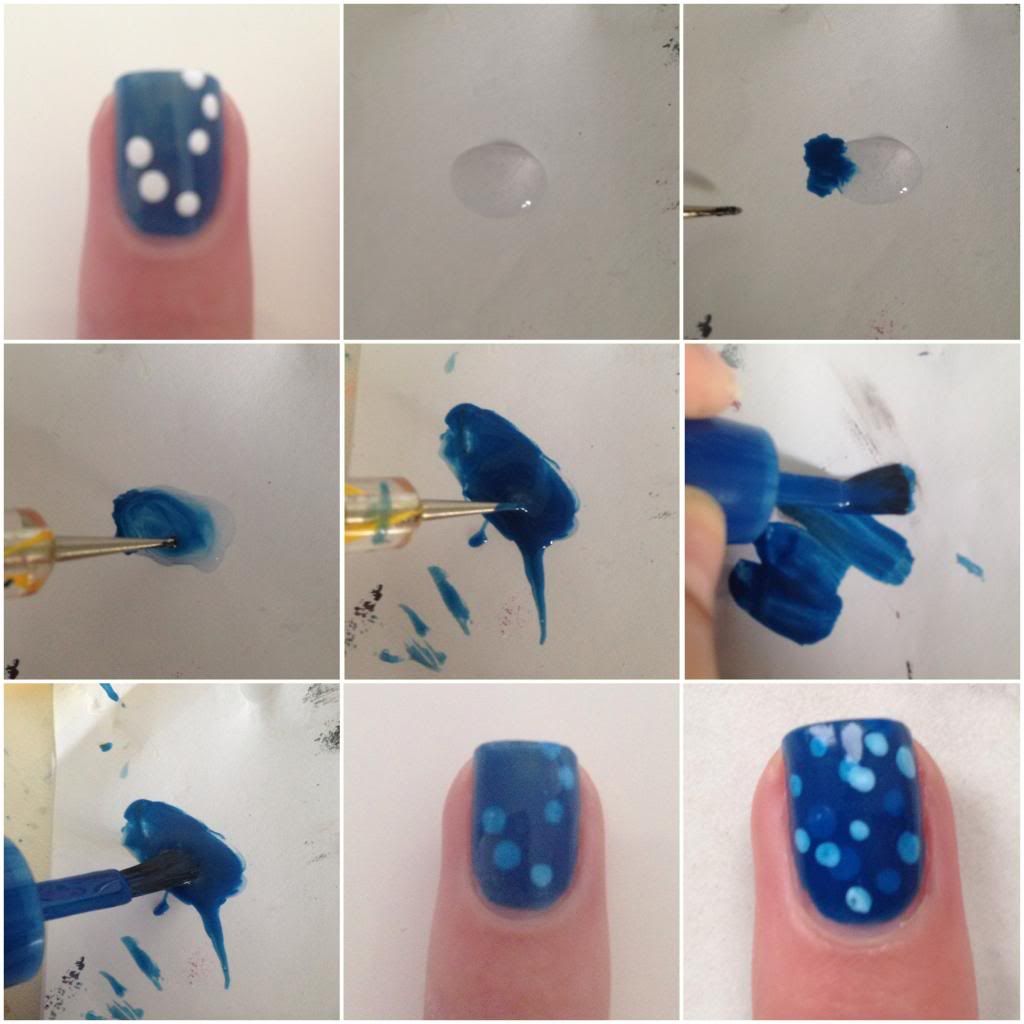 It's friday again, and that means as always Fancy Friday! :D This week's theme is 3D jelly sandwich, and i think most of you don't know what that is, so i'm going to write what our 'requirements' were. The idea is that you put on a base, this can be a jelly polish (which is a polish that is not fully opaque and kinda looks like jell-o, lol i'm comparing nail polish with food :b) or a creme, continued by some sort of nail art, like flowers, dots, stars, squirrels or whatever you like, and then a layer of a jelly polish. And then you repeat this until you are pleased with it (i did it three times). Soo.. Polish (jelly or creme), dots, jelly, dots, jelly, dots, jelly, done!
I don't have any real jelly polishes, only crellys, which is a like mix of creme and jelly, so i have mixed a regular creme polish with top coat, and it actually worked fine! To show you how you can do this, and so the things i have tried to explain is going to make a bit more sense, i have made a step for step tutorial, which you see as the last picture. The pictures is not so clear and my finger looks really red, but it was because of the light.
It's no secret that i have in no way been looking forward to this challenge, actually i just want it over, so i have chose to only do it on one nail, to make it easier for myself. You going to cheat, where you can cheat, riiiiight? c:
I used to polishes from Essence: The boy next door and Stamp me! White (for the dots). The top coat i used were Poshe, but it any clear polish should work.