20. DECEMBER! Jeg har slet ikke fattet at det snart er juleaften, men derfor kan jeg jo godt sige glædelig jul til jer ;D
Så eftersom at det her er en af mine sidste jule designs tænkte jeg at jeg ville lave lidt mix-match. Derfor har jeg lavet fem forskellige design som jeg har tænkt på at lave i løbet af december men ikke ikke har haft tid til. En figur til hver negl ;)
Det er umuligt at forklare hvilke farver jeg har brugt da der er maaange, og jeg har også blandet lidt selv + noget af det er akrylmaling. I stedet vil jeg bare sige hvad det forestiller hvis man ikke kan se det (fra lillefinger mod tommel): Snemand, Julemand, Rudolf, Alf og Pingvin med nissehue :3
Jeg synes de blev rigtig søde og sådan tegnefilmfigur-agtige, hvilket også var meningen. Desværre er min top coat ved at være tyk så der er lidt "shrinkage" op mod neglebåndene. Grrr... Og top coat trak også lidt i det, men det fik jeg sådan nogelunde redet.
Beklager billederne, det var de bedste jeg fik taget inden det chippede.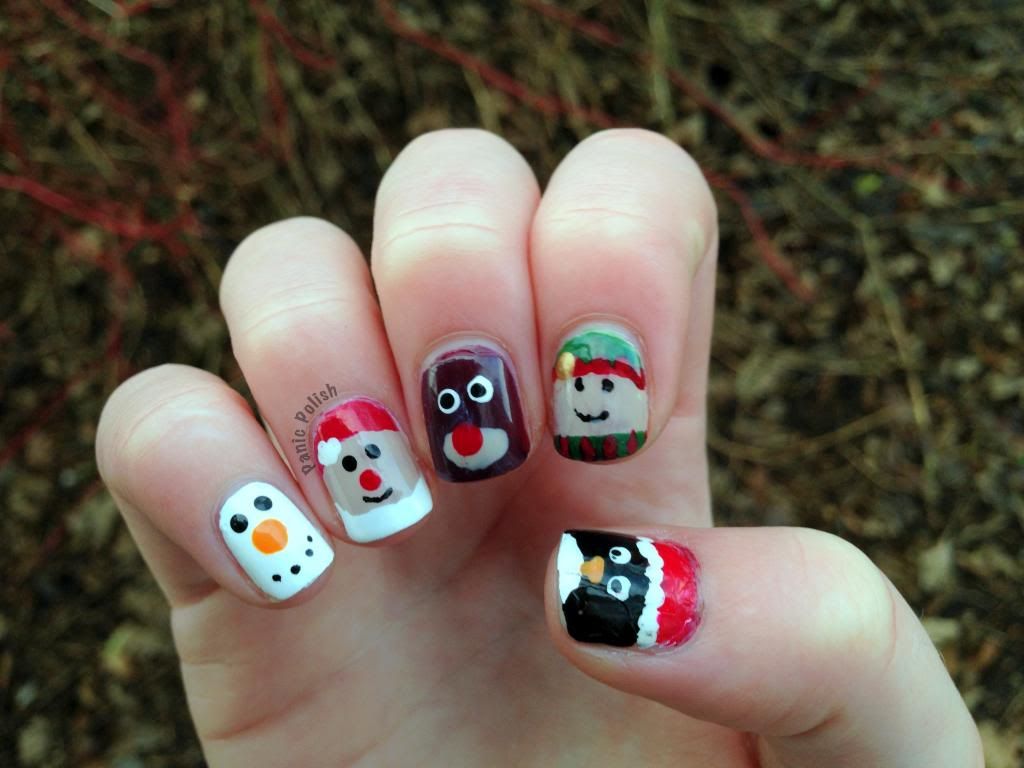 Fancy Friday: Merry Christmas
20. DECEMBER! I don't understand that it's almost Christmas eve, but that doesn't mean that i can't say merry christmas to you ;D
So this is gonna be one of my last christmas designs, so i thought i would do some kind of mix-match. That's why i have made five designs that i have thought of doing during december, but didn't have time for. A character to each nail ;)
It's impossible to explain which colors i've used, there's aloooot and i also mixed some by myself + some of it is acrylic paint. So instead i just want to say what it is, if you can't see it (form pinky to thumb): Snowman, Santa Claus, Rudolf, Elf and a penguin with a christmas hat :3
I think they got really cute a cartoon-y, which they also were supposed to be. Unfortunately my top coat is getting thick so it made some shrinkage at the cuticles. Grrr.. And the top coat also smudged some of it, but i kinda fixed it.
Sorry for the weird pictures, it was the best i had before it chipped.